"There are no other Everglades in the world... The miracle of the light pours over the green and brown expanse of saw grass and of water, shining and slow-moving below, the grass and water that is the meaning and the central fact of the Everglades of Florida. It is a river of grass."
–Marjory Stoneman Douglas
So begins Douglas's paean to this unique place, The Everglades: River of Grass. I read it in my youth and again three years ago when I got the idea to bring artists to Everglades National Park. Douglas wrote the book the year Everglades National Park was founded, 1947. As a schoolgirl I remember seeing Harry Truman when he came to my hometown, Miami, for the dedication of America's first wilderness park.
For a little background, the park represents one-and-a-half million acres, one-third of which is Florida Bay, and encompasses only the southernmost part of the Everglades, which Stoneman described as the widest, shallowest river in the world. Everglades National Park is a biological rather than a geological park, which means it is dependent on its flora and fauna for its designation, rather than mountains and scenery—although there is plenty of the latter. The health of the Glades is dependent on that free flow of water which has been tapped, squeezed and drained by Florida's agricultural and commercial interests. The Glades is a victim of slow murder.
I needed to raise the money to get started, and did so just by asking friends and interested parties for small contributions. Here I must add that it is cheap to keep an artist in the park—a mere $10 per day, the cost of housing rental. My experience as a 10-time art colonist indicated that a 2- to 4-week residence was just about the right amount of time. We had decided to host visual artists, including photographers and writers. I also combed the library for names to enlist a board of expert advisors to help us come up with residence candidates and advise on fund raising and the like. Easy to do in the large South Florida community; it teems with art schools, museums, arts organizations of all kinds.
In two months we had the project rolling, and in April, 2001, I tested the program, newly christened AIRIE (Artists In Residence In Everglades). As usual at any art colony, I was tremendously productive. In the solitude of the park, it was even more so. There was no social life at all to distract me. Here I should add that the wilderness is not the place for an artist who requires nightlife, other than animals. However, it is possible to bring a spouse or other companion. If that companion is another artist, it is ideal.
Bonnie Fournier advised us not to advertise the program because there would be a deluge of applicants that the staff couldn't handle. So far, there has been no need to do so. Word of mouth and some newspaper and magazine publicity has given us all the candidates we can handle.
But even we weren't prepared for the success of AIRIE. Other national parks host three or fewer artists per annum, period. By the end of our second year, AIRIE has hosted 15 artists, poets and fiction writers. They have thrived and produced excellent work in the park. They have to pay their own way in terms of transportation and food, which makes the stay comparable to that in an art colony, most of which are no longer free. They are required to donate a work or minimal rights to writing and donate some time to the park visitors. On the other hand, they get perks in the form of boat trips, swims, nature walks, and other things offered by the park, as well as admiration from park visitors and help from devoted staff.

Wading Egrets are watched by a Roseate Spoonbill – Everglades National Park Photo

Each resident who has come has fallen in love with the park and has absorbed and developed the experience. Each of us is continuing to develop work, to return to the park, in some cases to work as advisors. I've been back to speak, and have planned an exhibition next year based on the butterflies of the Glades.
Both the public and the staff loves AIRIE. Visitors are intrigued by having artists in the park, and flock to the outdoor presentations (mosquitoes and all) and the indoor exhibitions. While I was there, I immediately caught on to the fact that there is a natural bond between nature and art—particularly in America, going back to when the railways were being built and artists like Bierstadt went along to record the landscape. The great American landscape artists like Frederick Church inspired a vast audience for art in America, as did the nature poets. Each resident has found that rapport with the visitors.
In the 60s, I sailed there extensively, and the glory of the bird life is embedded in my memory. I have lived and painted in Manhattan for fifty years, but I have held the Everglades in my heart for all that time. And for all that time I have been aware of the deterioration of the glades, the robbery of water, the threatening greed that promises to destroy it. Since the 30s, 95% of the bird life has disappeared, and the water supply and health of humans is in jeopardy.
So in 2000 I really got excited. As an environ-artist, I had been making political paintings for years, and had started painting the endangered Everglades on my annual trips south. The news of the nearly $8 billion Comprehensive Everglades Restoration plan that promised to solve Florida's water problems thrilled me and prompted me to want to get artists involved.
It is a little-known fact that 27 National Parks and historical sites have small artists-in-residence programs. Learning of this, I contacted Bonnie Fournier, a stalwart photographer who had been to Yellowstone and, as a labor of love, published a little booklet describing all the parks' artist-in-residence programs. Most parks have off seasons during which artists can come in and live in vacant staff housing.
I learned that Everglades National Park wasn't on the list, so I started a letter-writing campaign contacting politicians and the park itself. The then-chairman of the powerful Senate Environment and Public Works committee, Bob Smith, enthusiastically responded. I got immediate action, and learned that the new superintendent and the staff at Everglades were gung-ho to get started. Bonnie had told me that any project of this nature is dependent on a dedicated ranger who will volunteer many hours. I got him in the form of senior ranger Alan Scott, a biologist who is also an art lover and, as it turns out, a friend for life. It seemed that the staff had long wanted to host artists in the park but didn't know how to do it. With my background in art administration, activism and writing, as well as painting, I was ready, willing and qualified for the job.
Bringing Art to the Endangered Everglades
Donna Marxer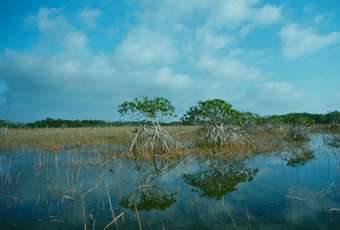 Red Mangroves – Everglades National Park Photo
An Anhinga dries her wings – Everglades National Park Photo


---
Two poems by Anne McCrary Sullivan, AIRIE poet, 2002:

El Laguno del Espiritu Santo

Not knowing what to do
with the map of South Florida,

impenetrable expanses of water and blades
that were not gold, not silver, not anything

valuable, those Spaniards dismissed it,
named it for the holy spirit, moved on.

I wade into high sunlit grasses. Order
stirs in the sawgrass prairie wind.

A wood stork sails its cross over me.
In the slough, the anhinga dives

over and over, then spreads its wings
to dry. Water is

the sacrament. A gator lies still,
the turtle in his teeth.


Rangers of The Everglades

These are people who love the green,
watery, actual world teeming
with fishes and birds and furry things,

things rooted and reaching toward sky,
blossoming and seeding, needling
and coning. They love the dirt. The mud.

They walk us along sloughs, naming:
great blue heron, little blue heron, egret,
ibis, red shouldered hawk. They tell us

how alligators love and how the anhinga
feed their young. They teach us
the patience of the wood stork, stirring

ooze with a pink foot, the reticence
of the bittern hiding in sawgrass.
They teach us river – not swamp,

wide river of grass, flowing down the slow
incline of Florida – flowing, feeding, sustaining
except where humans interfere. Yes, us.

These rangers receive our questions heavy
with ignorance—as though they were blessings.
They are glad we have come. They want us

to learn to name the world, too: otter,
alligator, spatterdock, gallinule,
osprey, cormorant, pond apple, gar.


Resident Ron Morosan's tribute to the Everglades – ©2002 Ron Morosan

The staff loves AIRIE for another reason. The Everglades is back in trouble. The current administrations—both national and state—are doing everything possible to delay or reverse the new laws governing the protection and regulation of water. Because of budget cuts, park staff has been cut drastically and those remaining are doing double and triple duty, so morale is low. AIRIE has helped boost that morale. And there is no ill wind that doesn't bring some good. The staff cuts have made more housing available to residents, including the popular winter season.
If and when money becomes available, AIRIE will expand to publish postcards, prints and books of residents' works, and to hold exhibitions that travel beyond the park. These are dreams that may or may not come true, given the reality of funding for the arts, but one thing is sure; the future of the program is secure, because everyone wants it. It is an ornament to the park and one that costs the taxpayer virtually nothing.
There is a lesson in all this. It is easy today to be grim about the future of the planet, of the pieces of earth we love and need. AIRIE is an example of how easy it is to start something positive just by getting people together who are like-minded and caring about art and nature. Eleanor Roosevelt said, "It is better to light one small candle than to curse the dark."
The flame grows brighter.

Co-Directors of AIRIE Ranger Alan Scott and Donna Marxer hold her "Florida Bay", now hanging at Park headquarters.

To apply for AIRIE, see www.nps.gov/ever/current/airie.htm.
---
Donna Marxer has been a painter for nearly 50 years, always using nature as her inspiration. She has had more than a dozen solo exhibitions and scores of group exhibitions. Her work is to be found in museum and numerous private collections. Donna Marxer is an arts activist, serving as co-coordinator of AIRIE and serving on the boards of Artists Talk On Art of which she is the former executive director, and the Organization of Independent Artists. She writes regularly for Art Calendar and other publications, and is a recent winner of the Ludwig Vogelstein Foundation's award for creative achievement.